The Russian citizen Andrei Tyurin was arrested in the Republic of Georgia and extradited to the U.S. last year, faces hefty fines. He was pleading guilty to charges that he stole data on more than 80 million clients of JPMorgan Chase & Co. and other institutions that netted hundreds of millions of dollars in ill-gotten gains. Tyurin was one of the accomplices of the Israeli Gery "Gabi" Shalon. For the U.S. authorities, Shalon is the principal behind a worldwide cybercrime organization which is responsible for the JP Morgan hack and a gigantic pump-and-dump scheme with U.S. stocks as well as for DDoS attacks on adversaries and competitors.
Prison time and multi-million dollar fines for Tyurin
Tyurin was charged in a sealed indictment in 2015, but he remained at large until his apprehension in Georgia. He was extradited to the U.S. in September 2018.
Read the US DoJ press release here
According to the information available to FinTelegram, the arrest of Tyurin in Georgia was made possible by Shalon who allegedly cooperates with the U.S. prosecutors. Gery Shalon's father Shota Shalelashvili was a member of the Georgian Parliament until recently and puportedly maintained excellent relations with the U.S. authorities.
As part of the deal with U.S. prosecutors, the government will recommend that Andrei Tyurin serve 15 to 20 years in prison. Tyurin has agreed to forfeit $19.2 million. He said Monday that amount was the sum his accomplices agreed to pay him for his hacking role. Tyurin's sentencing is scheduled for Feb 13, 2020.
"Did you know that what you were doing was wrong and illegal?" Judge Swain asked in the nearly two-hour plea hearing. "Yes," said Tyurin, who appeared in blue prison garb and spoke through a Russian translator. "I pleaded guilty to those counts because I am in fact guilty," he told Swain through the interpreter.
Tyurin's plea before U.S. District Judge Laura Taylor Swain in Manhattan, which was expected, brings U.S. authorities a step closer to closing the book on the Gery Shalon Case. The case of the scheme's ringleader, Gery Shalon, hasn't been resolved. People familiar with the case have said he is cooperating with authorities. Several other defendants in a related case either pleaded guilty or were convicted after a trial. Law360 rightfully pointed out that this criminal case "has been heavy on secret filings and light on court appearances".
Shalon and his deputy Ziv Orenstein were arrested in Israel in July 2015 and extradited to the U.S. According to information available to FinTelegram, Shalon is cooperating with the U.S. government. Allegedly, Gery Shalon paid more than $400 million as part of the plea agreement with the U.S. prosecutors.
Mastermind Gery Shalon still in business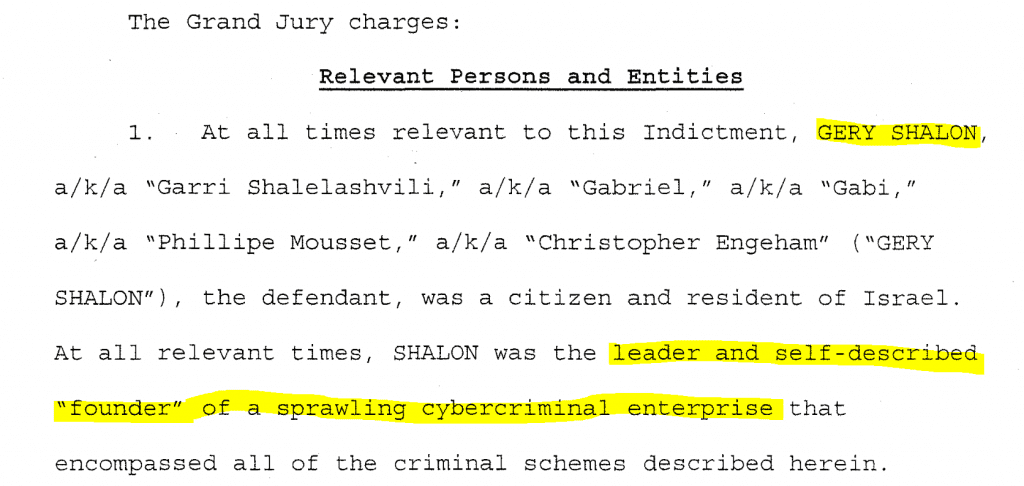 Despite the ongoing criminal proceedings, Gery "Gabi" Shalon still runs his worldwide cybercrime organization today. However, the air is getting thinner.
His former partner, the German Uwe Lenhoff, was arrested in Austria at the beginning of 2019.
An EU arrest warrant was issued against Shalon's Israeli partner Gal Barak in early 2019.
Shalon's Russian partner Vladislav "Vlad" Smirnov is wanted by the EU authorities to answer important questions.
According to the information available on FinTelegram, Gery Shalon is also responsible for the DDoS attacks on the FinTelegram servers. In January 2019, Shalon attempted to prevent FinTelegram from reporting with a million-dollar offer. Shalon, Smirnov, and Barak have offered the publisher of FinTelegram, Werner Boehm, shares in a company worth several million (read this FinTelegram report). He refused and reported the attempt to bribe the police. Since then, Shalon and his friends have attacked the FinTelegram editor with DDoS attacks and many fake websites.